I am a shelter kitty. I was very lucky the people at Grayson County Humane Society took me in and cared for me. I was so matted and dirty they actually thought I was a GIRL kitty! They soon found out I still had my mancat bits and once I was well had my mancat- ectomy. I am proud to say I will not help over populate the cat world.
So heres the deal, seeing as
June is Adopt a Shelter Cat
month I am going to show you some kittens and their moms who are at my favorite Humane Society. Please pass the word that these lovely females and their babies will have all their shots and be fixed when they go to a new home. Will it be part of yours?
Meet Mia, shes a lovely House Panther!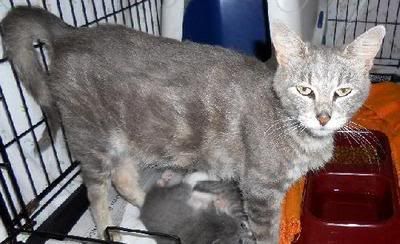 This is Mother.
Her kittens are - Cotton Tail, Mopsy and Flopsy.
The kittens are beautiful grey tabby / tuxie kittens.
This video is
Calypso
and
her kittens
. She is already spayed due to a problem while giving birth.
Adopt us shelter kittehs we certainly do want to be happy with you!